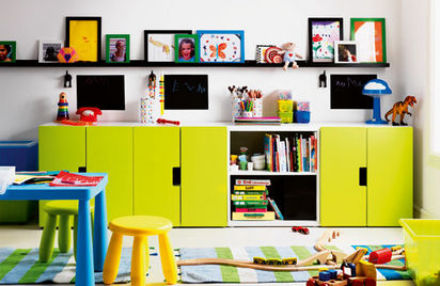 Whether they are bunking up because they like the company or there are simply no more rooms in the house, many siblings share a bedroom for at least some of their childhoods. Sometimes a source of much hilarity, sharing this personal space also has the potential for violent discord, so take care to create a room that both will find relaxing, welcoming and fun.
Buy The Right Bed
Bunk Beds
The main question here is to bunk bed or not to bunk bed. It may be that you simply have no space for two separate beds, but even if you do, bunk beds have a lot going for them. Great space savers, they leave more floor area for play, and children get a real thrill out of climbing up those little ladders.
You are not confined to a simple double-decker design, either - bunk beds come in a variety of styles, including a double bed with a single bunk above, stacked beds at right angles to each other and bunks that incorporate storage and/or a desk (see our children's bed feature for ideas). Plus, once you've moved to a bigger house and the kids have got a room each, they can usually be split into two single beds, so should last for years and years.

On the downside, bunks are not ideal for very young ones (they should be at least six years old before they can safely use a top bunk) or bigger children (who may get a bit cramped) and Granny will not appreciate being put up in them. They can be asking for trouble if your darlings like leaping from high platforms and you will bump your head every time you make the bed.
Twin Beds
Separate beds are perfect in a larger room if your children hanker after their personal space and when there is a larger age gap. You can position them as far apart as space allows and create distinct bedroom areas for each child.
If you invest in decent-quality full-size singles in a classic style, a pair of beds should see you all the way from toddler years to use in the guest room when your chicks have flown the nest (scribbles/bedwetting permitting).

Two little beds side by side look incredibly cute and you have plenty of flexibility should they decide not to share a room any more. However, trying to fit any more furniture or indeed anything else into the room could prove a problem. Alternatively you could invest in a pair of cabin-style beds, so each child has a high bed with storage and/or a desk below - this would be fun for them and an efficient use of space but could work out expensive for a fairly short-term solution.
Whatever type of bed you choose, we can supply the junior mattress, we are confident we can make it for you.
Just browse our store or if you need some advice why not give us a call and one of our team will be pleased to help you - that's what we are here for. Everyone of us at the end of the phone can offer you a wealth of advice when choosing your child's new mattress.
Tel: 01254 777603 / 775865
Email: info@childrensmattressesonline.co.uk
13th May 2013, 19:10